RACING
The Hard Bottom is Back for 2023!!!
The hard bottom is back on our Predator 1300R. The hard bottom is a 40" fiberglass runner placed on the hijacker in place of the conventional marley. Our Predator R-series comes with extra foot straps, a grab line, front tether protection, your race number and aluminum honeycomb floor. Call us for your next race hull at 616-450-0154.
The American Power Boat Association (APBA) is a governing body for power boat racing in the United States, With nearly 7,000 members throughout the world, APBA sanctions over 200 events each year for just about any motorized watercraft imaginable from Unlimited Hydroplanes to rough riding Stock Outboard boats, to maneuverable Super Light Tunnel Boats.
APBA has been granted sole authority to sanction US races by the Union of International Motor Boating (U.I.M.), the world authority for powerboat racing. Because the UIM accredits the Association as the sole national authority for powerboat racing, records set or championships won at APBA approved races are eligible to receive world title status. UIM recognizes similar sanctioning bodies in other countries as well.
APBA comprises 13 categories, based on inboard or outboard engines and the configuration of a boats hull. These categories allow APBA to meet the needs of a broad spectrum of racers, promoters and members. Because APBA is so diverse, anyone can enjoy being a part of this racing organization.
Competition, suspense, thrills, victory and prestige, APBA has it all. If you're a racing fan or want to race yourself, join the hottest motor sports-racing group on the water. APBA offers a variety of memberships to accommodate every interest from a competition membership, to officials and crew may join as non-racing members. And associate membership.

See the ABPA Home Page for more details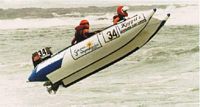 CALL FOR DETAILS 1-616-450-0154